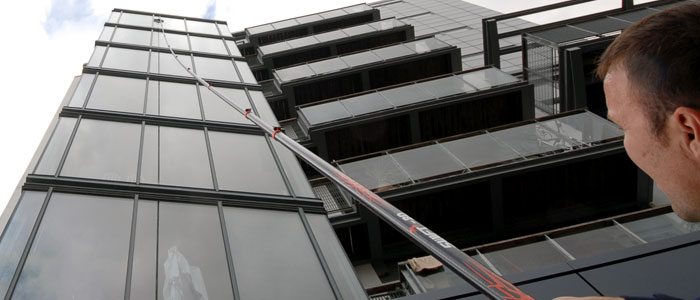 Reach and wash window cleaning (Water fed pole systems)
J.V. Price Ltd run twenty van mounted water fed pole systems, twelve cold water system and eight hot system for initial and cladding cleans. Each van carries a number of poles up to 80ft. This makes it possible to clean windows and cladding up to 6-7 storeys without having to leave the floor.
The reach and wash system is a brand of waterfed poles and pure water systems from ionicsystems and is now the industry standard for waterfed poles and systems.
Benefits of using water-fed poles:
A lot safer as the window cleaner stays grounded at all times (no work at height).
Can get higher than ladders (up to 80ft waterfed poles)
Faster than window cleaning using ladders
How Reach & Wash works:
The Reach & Wash System consists of a 7 stage water treatment system that produces 100% pure graded water. The treatment process utilises reverse osmosis and mixed bed de-mineralising resin to produce the pure water. No detergents or chemicals or are needed during the process that make it very environmentally friendly.
The Pro 7 systems can produce pure water all day long all is needed is a water supply this makes it possible to carry out greater working times and less down time for our operatives.
All operatives have been trained by the BWCA (British Window Cleaning Academy) in the use of Water Fed Poles.
All systems have been supplied to us from Ionic, the reasons for choosing Ionic over others manufactures is the fact that the systems have a crash test passed by THATCHAM and the Pro 7 systems we chose have further filtration which reduces waste water by 80% making the systems environmentally friendly and far safer for our operatives.
We also now have a static water system at our bases that produce large amounts of water up to 20000ltrs a day and where ever possible we harvest rain water for the process and then use the waste water produced for pressure washing tasks and cleaning the fleet of vans.