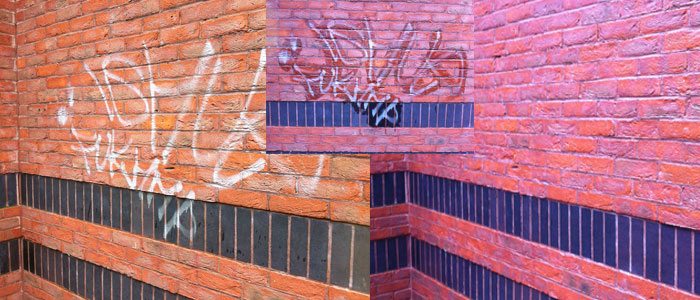 Grafitti Removal Services
Graffiti or 'street art' has become a massive problem in and around urban areas particularly targeting commercial properties and stone structures. Graffiti comes from the Greek word graphein, which means, "to write." However this can range from an undesirable one colour moniker like a nickname, or "tag" to extravagant wall painting or "piece".
However, no matter how these are regarded or what message they are trying to convey graffiti can often make a property look unprofessional and less inhabiting which in turn can make it especially difficult when trying to sell the property or floor space to prospective tenants. This is also usually carried out without the property owners consent and therefore against the law which is then considered graffiti vandalism or "institutional vandalism".
Graffiti removal services
By using specialist hot and cold high-pressure washing graffiti removal equipment in conjunction with environmentally friendly biodegradable graffiti removal chemicals, it is possible to remove graffiti from all types of porous or non-porous surfaces without damaging the underline facade.
We offer a graffiti removal service and can also apply anti graffiti coatings to help prevent further damage to your building. We can remove Graffiti from brick, stone, metal, plastic, glass and wood.
Our pressure washers and graffiti cleaning equipment are also perfect for fly poster removal, pavement cleaning Stone, brick and concrete cleaning, façade cleaning, rubbish chute cleaning, bin chambers and stairwells, subway cleansing, street furniture cleaning, lime scale removal, general jet wash cleaning and pigeon fouling cleaning and protection