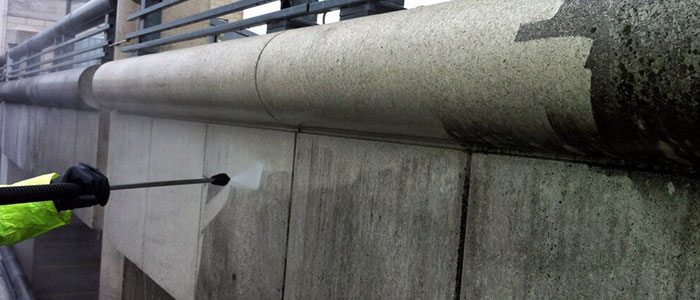 Pressure Washing & Steam Cleaning
J.V. Price Ltd operate a fleet of 5 purpose built van mounted commercial pressure washing units. These units have been built to a very high specification and with many different types of pressure cleaning tasks in mind. The units are flexible in the fact they can produce a pressure between 500psi and 3500psi for high pressure cleaning and temperatures from 10 degrees – 150 degrees for hot water pressure washing. The units are self-contained with on-board diesel engines, generators and water tanks and if needed, we can also collect the waste water from the works and pump it to a specified drain or tank to remove from site or filter it recycle it for continues use.
With many different lances and attachments we can carry out industrial pressure washing or steam cleaning services to any surface including, stone, paving, facades, cladding, tarmac, decking, render, timer cladding, petrol stations, roofs, smoking areas, compactor areas and service yards and any other surface covered in grime dirt and algae.
Day to day jobs we clean from a bus stop to a multi storey car park or even an aircraft hangar, so no job too big or too small, we can also carry out works at any height via rope access or our fleet of access platforms.
For jobs carried out on sensitive stone works and facades we also operate Doff, Torc and Torick systems.
Offering a national service day and night, we can cover all your pressure washing and steam cleaning needs no matter where or when.
Call us today for a free quote: (01442) 831777