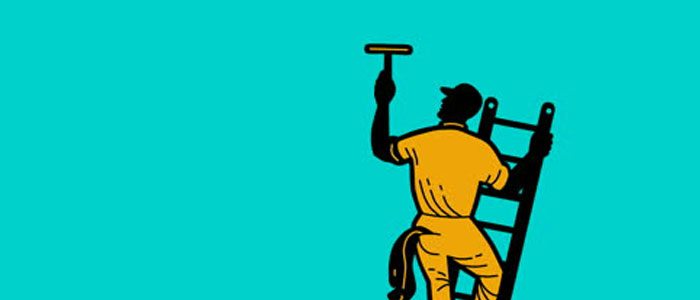 Traditional window cleaning and Window Cleaning using Ladders
Even with all of the new technologies that are out there, traditional window cleaning is still the best way to guarantee that streak free finish that all window cleaners are aiming to get. Our professional window cleaners are trained to the highest standards at our in house window cleaning training facilities based in Hemel Hempstead and carry all of the correct tools as well as use pure water.
J.V. Price Ltd use ladders in situations where other means of access or WFP are not suitable. For example, low level windows, tight access situations and inside building cleaning. When carrying out window cleaning with ladders, operatives work with "buckets on a belt" making it possible to keep three points of contact with the ladder at all times. All ladders are fitted with anti slip devices, or footed by another operative.
All operatives are trained from our in-house window cleaning training centre in the use of pointed top ladders and follow all guide lines in place by the Health and Safety Executive.
J.V. Price Ltd use industry standard in window cleaners ladders supplied by Ramsey Ladders to the specification below:
 

Pointed top fitted with white rubber block (105mm wide) and a tapered/splayed base•

 

Manufactured from hollow seamless aluminium extrusions with radiused corners for extra strength
Rungs of 24mm diameter serrated tube fitted through stiles at a rise of 250mm by a special locking method to prevent turning and for increased strength
Ends of ladder stiles fitted with rubber plugs
Can window cleaners use ladders?
Yes! a few years ago, the Work at Height Regulations changed where a lot of people thought that window cleaners were not allowed to use ladders anymore. They are, as long as they are justified such as shopping mall window cleaning, access to windows above flat roofs and short periods of window cleaning i.e 30mins.
Ladders are not banned for window cleaning
Ladder Safety Information & Guidelines followed by J.V. Price Ltd operatives: